| | |
| --- | --- |
|   | Nike 6.0 Air & Style 2011: Peetu Piiroinen conquista a Monaco il Ring of Glory seguito da Seppe Smits (BEL) e Halldor Helgason (ICE). |
Monaco di Baviera, 12 febbraio 2011 – Peetu Piiroinen ancora una volta sul podio dell'Air & Style ma questa volta sul gradino più alto di fronte ad una platea di 16500 spettatori all'Olympic Stadium. Peetu vince grazie ad un Cab 1260 Mute Grab e ad un Frontblunt 270 (93,07 punti). Segue Seppe Smits al secondo posto (91,6 punti), Halldor Helgason (ICE/77,6) al terzo posto e Nils Arvidsson (SWE/37) come quarto.
Una notte incandescente che dall'inizio alla fine ha lasciato il fiato sospeso a tutti i presenti arrivati già nel tardo pomeriggio per assistere alla grande finale del Nike 6.0 Stairset Battle che ha visto competere i nove finalisti scelti durante il tour europeo. Mike Casanova (USA) vince il Nike Stairset Battle seguito da Jamie Nicholls (GRB) e Forest Bailey (USA).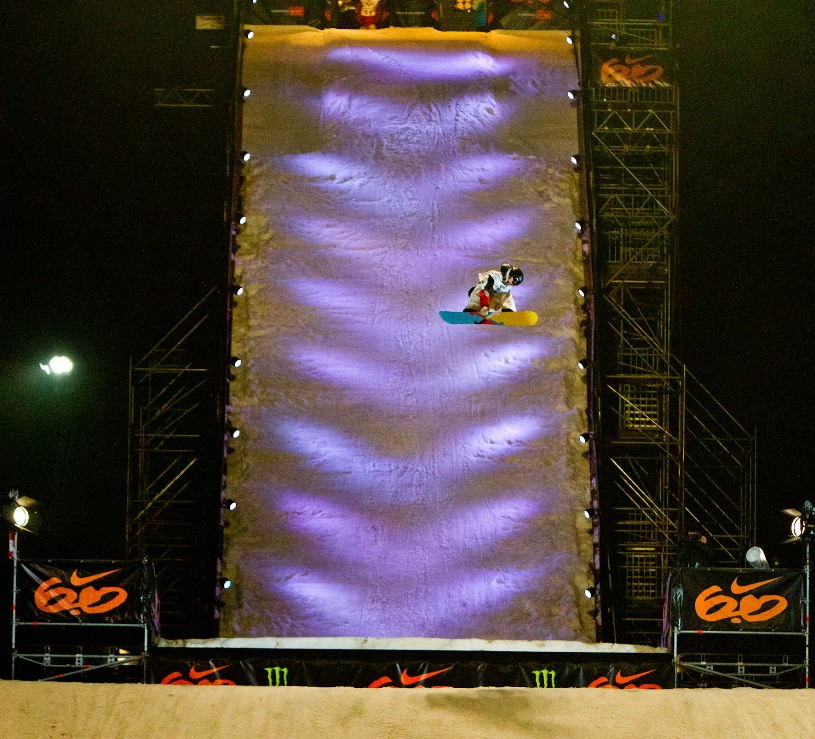 Con questa vittoria Peetu Piiroinen dimostra ancora una volta di essere il "back-to-back" World TTR Champion portandosi a casa ben 1000 punti TTR oltre al famoso Ring of Glory.
Andrew Hourmont, fondatore dell'Air & Style afferma: "The Air & Style e lo Snowboarding sono ritornati a Monaco come non mai e credo anche che la città di Monaco abbia gradito il nostro ritorno. I rider hanno contraccambiato i nostri sforzi con un grande show ed il pubblico non è stato da meno".

Risultati Nike 6.0 Air & Style Munich 2011 Stadium Slopestyle Contest
1. PIIROINEN, Peetu FIN Nike 6.0, Burton 93,07 Punkte
2. SMITS, Seppe BEL Red Bull, Burton 91,60
3. HELGASON, Halldor ISL Nike 6.0 77,60
4. ARVIDSSON, Nils SWE Rip Curl 37,00
5. TOUTANT, Sebastien CAN O'Neill, Red Bull
6. MORGAN, Ethan GER Nike 6.0
8. BADERTSCHER, Ulrik NOR Quiksilver
9. KOSKI, Markku FIN Quiksilver
10. HALLER, Christian SUI Burton
11. KOTSENBURG, Sage USA Nike 6.0, Monster
12. PODLADTCHIKOV, Iouri SUI Quiksilver
13. KÖNIG, Peter AUT Forum
14. MALIN, Markus FIN 32 Snowboard Boots
15. AGUIRRE, Mason USA Nike 6.0
16. KORPI, Janne FIN Kissmark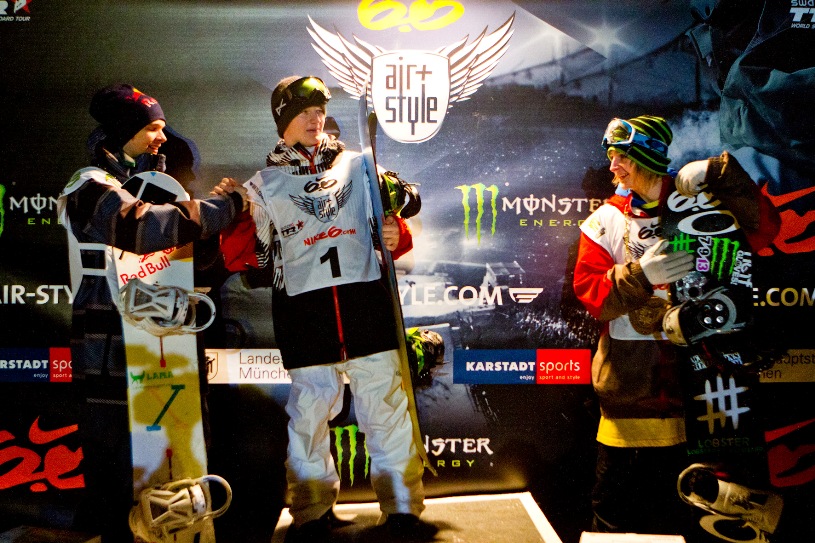 Risultati Nike 6.0 Stairset Battle
1. CASANOVA, Mike USA Atmosphere, Monument 89,33 Punkte
2. NICHOLLS, Jamie GBR Nike 6.0 84,33
3. BAILEY, Forest USA GNU, Red Bull 82,67
4. PAWLUSIAK, Wojtek POL Burton, AG 75,67
5. VALAIKA, Keegan USA Burton, Gnarley 73,00
6. HELGASON, Eiki ISL Oakley, Skullcandy 68,33
7. RAJCSANYI, Daniel GER Sionyx, Nitro 68,00
8. BÜHLER, Boris SUI Santa Cruz 15,00
Per maggiori informazioni:
Silvia Zucchiatti,
CoreNetwork
office:+39 0236587091
mobile:+39 3398065469
e-mail: silvia@corenetwork.it
skype:silviazucchiatti