L'Islanda torna sul podio dei WRF di Livigno
Baldur Vilhelmsson vince la 13esima edizione del DEEJAY Xmasters World Rookie Fest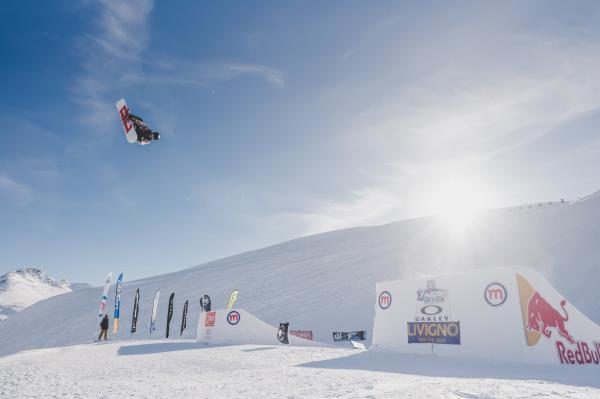 Livigno e il Mottolino Snowpark hanno accolto più di 100 rider provenienti da 11 nazioni per questa edizione del DEEJAY Xmasters World Rookie Fest. Dopo due giorni di forti nevicate e nuvole basse, il sole è stato protagonista della giornata di training di martedì e di quella delle finali ieri. Dati i cambiamenti fatti in corso d'opera, a causa delle condizioni meteo avverse, ogni rider ha avuto due run a disposizione per dare il proprio meglio, la migliore è stata considerata per stilare la classifica dei vincitori.
Le ragazze sono partite per prime e Annika Morgan (GER) si è aggiudicata il podio della categoria Rookie grazie ad un backside 360 ed un frontside 360 indy sui kicker e ad un frontside 270 out e ad un lipside pretzel 270 out sul rail Oakley. Medaglie d'argento e di bronzo, rispettivamente, alle finlandesi Inna Puhakka (FIN) e Evelina Taka (FIN). Anche le Grom girls hanno dato del loro meglio: Mia Brookes (GBR) conquista l'oro, seguita da Elena Schutz (SUI) e Evy Poppe (BEL).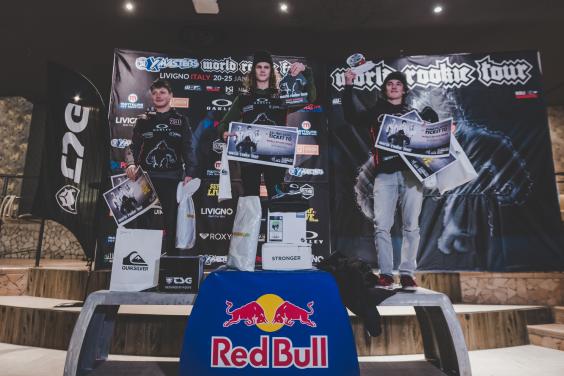 I Grom boys sono partiti dopo le ragazze. Anche a Livigno è continuata la contesa del podio tra William Mathisen (SWE) e Alessandro Lotorto (SUI) che hanno portato a casa primo e secondo posto. William vince nella sua categoria con un punteggio di 82,5 nella sua seconda run dove a chiuso backside double cork e frontside 720 melon sui kickers della linea XL e front blunt 270 e backblunt 270 sul rail set. Lukas Frischhut (AUT) sale il terzo gradino del podio.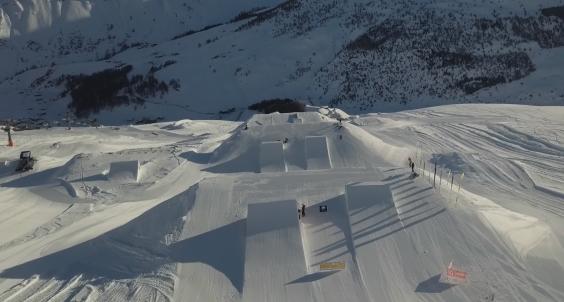 Baldur Vilhelmsson (ISL) porta a casa la vittoria nella categoria Rookie con 85,3 punti e tiene alta la bandiera islandese per il secondo anno consecutive sul podio. Nella sua run migliore ha chiuso frontside 900 indy e switchback 900 sui kicker della linea XL, blunt 270 out e backside 270 in nella jib area. Secondo e terzo posto per lo svizzero Nick Punter (SUI) e il tedesco Noah Vicktor (GER).
Dopo la cerimonia di premiazione, durante l'intervista Baldur dice: "Sono scioccato!! Per me è stata la prima volta a Livigno, il park era stupendo e poter incontrare così tanti rider è stupendo. Il World Rookie Tour è una splendida competizione".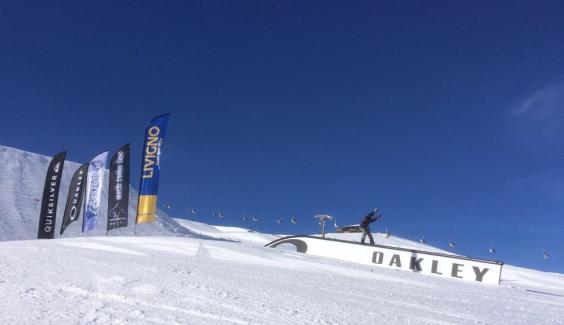 Ultimo ma non meno importante il premio assegnato al miglior team che quest'anno vede vincitore la Svizzera con i suoi 17 atleti.
Per concludere la giornata, il Black Yeti ha atteso l'arrivo dei rider al Miky's Pub per il final party supportato da Dolly Noire ed energizzato da Red Bull. Ed ovviamente anche quest'anno è stato chiuso in bellezza.
Guarda le foto del 2018 DEEJAY Xmasters World Rookie Fest:
Day 1 –  Arrival Day – Event Presentation – Welcome party
Day 2 – Yoga – Coach Meeting
Day 3 – Training
Day 4 – Competition Day
Di seguito il video report dell'evento
Photo Credits by Ania Grzelka
On the top: Baldur Vilhelmsson
Thanks to 2018 DEEJAY Xmasters World Rookie Fest sponsors and media partners: DEEJAY Xmasters,Livigno Touristic Office, Mottolino Fun Mountain, Skipassion, Oakley, Quiksilver, Roxy, Union Binding Company, TSG, SurftoLive, Dolly Noire, Elle-Erre, Boardriding, Pleasure Magazine, Quattro Media, Red Bull, World Snowboard Federation and FSI Federazione Snowboard Italia.
2017.18 World Rookie Tour – CALENDARIO UFFICIALE
NZ Rookie Fest. Cardrona, New Zealand. October 05-08, 2017. Halfpipe and Slopestyle DONE
World Rookie Rail Jam. Modena, Italy. October 26-28, 2017. Urban Rail Jam DONE
Corvatsch Rookie Fest. Corvatsch, Swiss. December 13-17, 2017. Slopestyle DONE
Deejay XMasters World Rookie Fest. Livigno, Italy. January 20-25, 2018. Slopestyle
Bulgarian Rookie Fest. Pamporovo-Mechi Cal, Bulgaria. January 26-28, 2018. Halfpipe and
Slopestyle
USASA Grom Fest. Keystone, USA. February 10, 2018. Slopestyle
Valle d'Aosta Rookie Fest. Pila, Italy. February 21-25, 2018. Slopestyle
USASA Grom Fest. Breckenridge, USA. February 25, 2018. Halfpipe
Indy Park Rookie Fest. Nekoma, Japan. March 03-04, 2018. Slopestyle
Oslo Rookie Fest. Oslo, Norway. (to be confirmed)
Mammoth Rev Tour Rookie Fest. Mammoth Mountain, California. March 15-16, 2018. Halfpipe and Slopestyle
World Rookie Finals. Kitzsteinhorn, Zell am See-Kaprun, Austria. April 10-15, 2018. Halfpipe and Slopestyle
Follow the World Rookie Tour online:
web: www.worldrookietour.com 
Facebook fan page: www.facebook.com/worldrookietour 
Vimeo channel:www.vimeo.com/channels/worldrookietour 
mail: info@blackyeti.info 
If you dream to become a professional snowboarder,
then your future starts from World Rookie Tour!
ABOUT THE WORLD ROOKIE TOUR
The World Rookie Tour is organized by the Black Yeti ssrl in collaboration with World Snowboard Federation and its National Snowboard Associations. It consists of a selection of high quality International events, the so called "Rookie Fests", reserved for riders under 18's only, in Europe, North and South America, Oceania and Asia. The World Rookie Tour consists not only of competitions: it also features loads of other activities to help rookies to grow in the field of professional snowboarding, such as photo & video shootings, avalanche and rescue clinics, meetings with photographers and international team managers, parties and English talks. Since year zero it awards tickets to world class events such as The Arctic Challenge, The Air & Style, The World Snowboarding Championships, invitations to professional snowboard photo & video shootings, and freeride trip in Chile. Every year the tour crowns the World Rookie Champion at the end of season, at the World Rookie Finals, a unique event where the best youngsters from almost 30 countries compete and have fun. More information at www.worldrookietour.com.
ABOUT THE WORLD SNOWBOARD FEDERATION
The World Snowboard Federation (WSF) is the international organization exclusively working to develop the sport of snowboarding at all levels. Program areas include: Halfpipe, Big Air and Slopestyle competitions, Banked Slalom, Para-Snowboard, judge and shapers, education and certification, and snowboard activities for riders of every age. The WSF represents a network of National Snowboard Associations (NSAs) who work together at a worldwide level to promote the development of snowboarding. NSA members can find a source of inspiration and support from the WSF for the activities they are conducting within their nations and by working towards the same goal: progression of snowboarding from the ground up. Amateur and Pro Riders alike need to be members of the WSF to support the sport of snowboarding and enjoy the advantages of being a WSF Member.
ABOUT WORLD SNOWBOARDING
World Snowboarding promotes competitive snowboarding in representing the interests of a professional network of events, athletes, national sport associations and industry partners. A Non-Profit organization, World Snowboard Federation owns World Snowboarding, which administrates the widely respected global ranking system and the World Snowboarding Points Lists (WSPLs). By offering a fair, unbiased, global ranking platform, and through maintaining global competition, course-build, safety and judging standards, World Snowboarding brings transparency to the sport, across the freestyle disciplines of Halfpipe, Slopestyle and Big Air. Through World Snowboarding's four-tiered Regional to Elite level tour structure, it encourages, develops and supports rider progression from rookies to world-class athletes, where the Elite level, WST events are the ultimate pinnacle of snowboarding competition.