Una nuova location ospiterà l'evento più atteso dai giovani snowboarder: le Finali World Rookie Tour 2021 si terranno nel ghiacciaio di Hintertux, Austria dal 25 Aprile al 2 Maggio prossimi.
Dopo una difficile stagione con diversi cambiamenti nel calendario gare a causa dell'emergenza covid, il Black Yeti è pronto per annunciare la fine della stagione con le World Rookie Finals. Il famoso Betterpark, in cima al ghiacciaio di Hintertux, offrirà il setup perfetto per le finali slopestyle 2021.
L'evento assegnerà i titoli di World Rookie Champion più tanti altri premi: i campioni rookie, sia maschi che femmine, vinceranno la qualifica per la Coppa del Mondo FIS, inviti all'Absolute Spring Battle 2022, inviti allo Shooting World Rookie Tour, surf experience in Spagna offerte da SurfToLive.com, attrezzatura tecnica offerta dagli sponsor Burton, Union, TSG, BlueTomato, Jail Jam, Level.
Se il tuo sogno è diventare un professionista, allora le Finali World Rookie Tour sono l'evento da non perdere.
Programma
April 25: Arrival day (Freeski)
April 26: Training day (Freeski)
April 27: Competition day (Freeski)
April 28: Competition day (Freeski) and Arrival Day (Snowboard)
April 29: Training day (Snowboard)
April 30: Competition day (Snowboard)
May 1: Competition day (Snowboard)
May 2: Reserve day
(il programma potrà subire variazioni causa condizioni meteo, numero di partecipanti)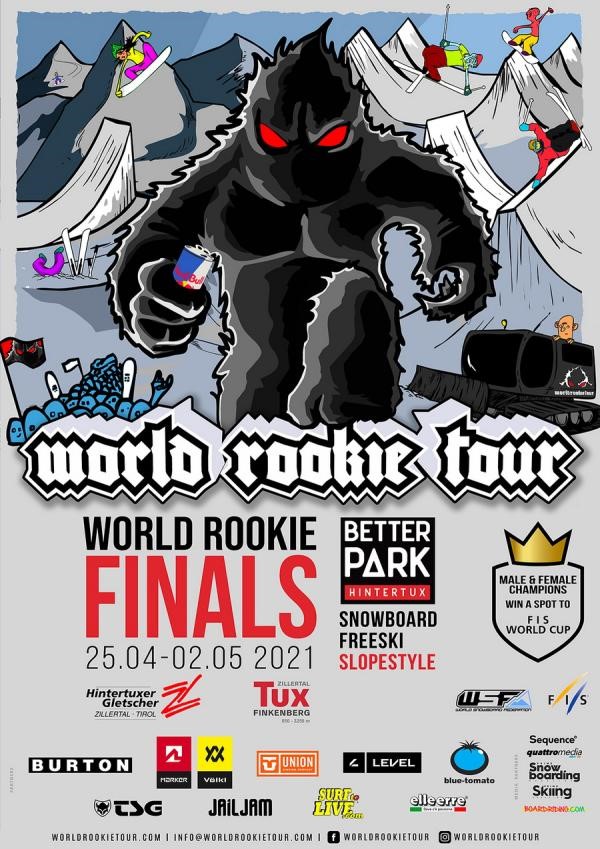 Criteri di ingresso alle World Rookie Finals 2021
(da comunicato ufficiale in lingua inglese)
FIS CODE
As this year, due to Covid, the event will be held under FIS rules, a FIS code is mandatory.
Athletes licensed starting with 2007 till 2003 are allowed to enter the event.
RIDERS CATEGORIES
Riders, male and female, born 1st January 2003 till 2007 are admitted to World Rookie Finals.
Riders will be divided in two age groups: Rookies born 2003 until 2005 – Groms 2006 and 2007
WORLD ROOKIE RANK
For Snb are admitted the Top 20 riders of the World Rookie Rank (top 20 male, top 20 female) + the top 10 riders from the Grom rank by the 16th of April.
You can check the rookie ranks here:  http://www.worldrookietour.com/rank/
NATIONAL QUOTA WSF MEMBERS
National quota for WSF Members allowed to get 5 spots
example: 2 Rookies Men, 1 Rookie Girl, 1 Grom Men, 1 Grom Girl (or other combinations)
WORLD ROOKIE TOUR EVENTS
The Top 3 riders, (both Male and Female / Rookie and Grom) from every WRT Stop from Season 2019/20 and 2020/21 are already qualified to the World Rookie Finals.
National secretary or national coaches are allowed to send their team inscriptions.
Registration and Entries:
Only secretary or coaches from National Associations are allowed to send their team registrations at registration@worldrookietour.com
Follow the World Rookie Tour
Web: www.worldrookietour.com
Facebook: www.facebook.com/worldrookietour
Instagram: www.instagram.com/worldrookietour  @worldrookietour #worldrookietour
Vimeo: www.vimeo.com/channels/worldrookietour
email: info@worldrookietour.com